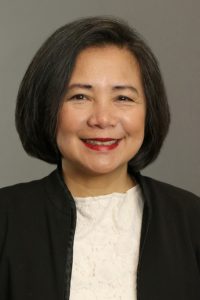 Dorothy Leung Blakeslee was appointed to the Bergen Community College Board of Trustees in 2003. Before becoming chair in 2020, she served as treasurer for nearly 16 years.
She is a partner with Browncoats Consulting, Inc., and remains an active member of many organizations including the New Jersey Housing Mortgage Finance Agency, the Quest Autism Program, and the State of New Jersey Family Advisory Council.
Ms. Blakeslee has served on the Boards of the Hackensack University Medical Foundation, the New Jersey Task Force on the Needs of Autistic Adults, the Organization of Chinese Americans, and is an alumnus of Leadership New Jersey. She was also a member of the Asian American Political Coalition and was the editor of the Asian American Voice.
Ms. Blakeslee received her B.S. from the University of Connecticut and holds a master black belt in Tae Kwan Do.