NEW! Direct Support Professionals Career Development Program (DSP)

Direct Support Professionals (DSPs) provide necessary support and services to people with disabilities of all ages, including support related to employment. They work with individuals with physical, mental or developmental disabilities who need support with daily tasks and community engagement.
Program Eligibility
An applicant must be 18 years of age or older.

Current high school students, college students, or adults who want to empower independence in other people's lives are eligible.

Interpersonal, listening abilities, strong communication, and organizational skills will be critical characteristics of successful DSPs. They must be dedicated to improving their clients' well-being and handle emergency situations calmly.
Training Benefits
Bergen Community College will offer the Direct Support Professional Career Development program to eligible students with no training costs to the students.  Additionally, a $5,000 stipend will be given to each fellow with four payments during the program. This program is made possible by a grant from the New Jersey Office of the Secretary of Higher Education.
2023/2024 Cohort
The program will accept only 25 students for the 2023/2024 cohort.
This is an excellent opportunity to be trained as a DSP without any financial burden.
Steps to Certification
The Direct Support Professional Program includes courses, modules, and internships. Courses and modules are in-person and online. The whole process will be completed in a year, from September 2023 to May 2024.
Fill out application including your resume

Take two college-level courses* on the topic of social work and human services

Complete DSP competency online modules

120 hours internship 

Employment available upon the program completion
*Students will earn six (6) credits to be applied to an Associate of Arts Degree in Sociology at Bergen Community College if desired upon enrollment in the matriculated program.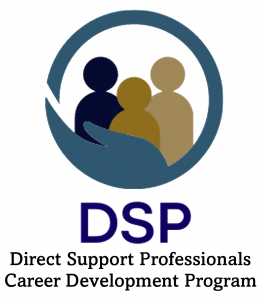 The Direct Support Professionals Career Development Program is made possible by a grant from the New Jersey Office of the Secretary of Higher Education.
Animal Control Officer
The Animal Control Officer (ACO) course is approved by the New Jersey Department of Health for state certification.  Over the course of seven Saturdays, students will have the opportunity to be taught by, interact with, and build relationships with the foremost experts in the State of New Jersey regarding animal control and animal welfare.
Anyone interested in animal welfare personally or as a profession may and should attend.  This includes kennel managers and staff, shelter workers, rescue group personnel, volunteers, and those seeking a rewarding career in animal control.  There is no requirement for prior experience or training to attend this course.  Completion of the course requires attendance at all classes.
Successful completion of this course meets the requirements of the N.J.A.C. 8:23A-2.2 for appointment as an ACO by a New Jersey Municipality.  Additionally, this is the only Certified ACO course whose graduates receive certification by the Emergency Care and Safety Institute for Pet First Aid and Incident Command Systems 100 and National Incident Management 700 by the National Wildlife Fire Coordinating Group.
In addition to the classroom component, students will arrange for and complete a 20-hour field training component in order to receive certification.
---
Anytime Online: