Breathe Clear Campus – Bergen's Tobacco-Free Campus Initiative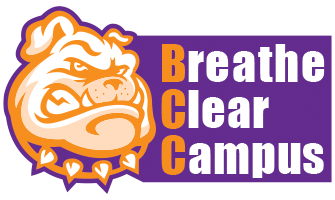 Bergen is 100% tobacco-free and 100% smoke-free as of May 2020. Community members can view the Tobacco/Smoke Free Policy to learn more. One of Bergen Community College's goals is to be a healthy campus that inspires our community to realize a better future for all students, faculty and staff, as well as vendors, volunteers and visitors to campus.
The American Nonsmokers' Rights Foundation (ANRF) has rated Bergen's Tobacco/Smoke Free Policy as inclusive of all best practices in campus tobacco controls. Here is ANRF's July 2020 report.
We understand that our move to become tobacco-free and smoke-free may be a sensitive and difficult process for some, and Bergen Community College will do all it can to help those who use tobacco products to eliminate their dependence on them, if they so desire. This includes making smoking cessation programming and non-prescription smoking cessation devices (patches, gum, lozenges, etc.) available to faculty, staff, and students.
Continue to check back to this Breathe Clear Campus web page that includes the policy, FAQs and other resource material. Questions, comments, and feedback may be addressed to studentconduct@bergen.edu.