You served us with commitment, honor, and distinction. It is our privilege to serve you.
We want to ensure that service members and veterans can focus not only on academic success, but also on reintegration into civilian and student life. We want to help you achieve your goals, and the team from the Veterans Connection – comprised of faculty, staff, and veteran students – are here to help you on your journey to success.
Contact Information
Office Location: Pitkin Education Center, Room L-113.
Office Hours: Hours: 8:30am-4:30pm, Monday to Friday.
Phone: (201)447-7997.
Email: veterans@bergen.edu
Staff
Violet Surdyka – Coordinator of Veteran and Military Affairs. Phone: (201) 493-3767.
John Giaimo – Academic/Personal Counselor. Phone: (201) 447-7458.
Betty Highkal – Secretary. Phone: (201)447-7997.
Military Friendly School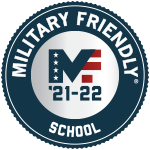 Bergen Community College has earned recognition as a military friendly school by Victory Media, which annually compiles data on services provided for veterans by colleges and employers.  Bergen enrolls approximately 300 students under the Post-9/11 GI Bill® (Chapter 33).
In 2013, the College opened its Veterans and Military Affairs Center at the main campus. The center offers veteran-specific counselors, advisers and information on benefits, events and resources.
Veterans Connections
The Veterans Connection at Bergen will:
Work with you to assess your military experience in relation to your academic goals.
Help you in learning about VA benefits and how to access them, as well as a variety of programs and services available to you.
Assist you with reintegration into civilian and academic life
Introduce you to other veterans at Bergen who share common experiences.
Serve as a conduit for raising understanding on issues that impact veteran students.
Present relevant educational topics that enhance your learning experience
GI Bill® is a registered trademark of the U.S. Department of Veterans Affairs (VA).